Product Summary
The P87C52X2BBD is an 8-bit microcontroller. The P87C52X2BBD contains 256 byte RAM respectively, 32 I/O lines, three 16-bit counter/timers, a six-source, four-priority level nested interrupt structure, a serial I/O port for either multi-processor communications, I/O expansion or full duplex UART, and on-chip oscillator and clock circuits.
Parametrics
P87C52X2BBD absolute maximum ratings: (1)Operating temperature under bias: 0℃ to +70℃ or –40℃ to +85℃; (2)Storage temperature range: –65℃ to +150℃; (3)Voltage on EA/VPP pin to VSS: 0 to +13.0V; (4)Voltage on any other pin to VSS: –0.5 to +6.5V; (5)Maximum IOL per I/O pin: 15mA; (6)Power dissipation (based on package heat transfer limitations, not device power consumption): 1.5W.
Features
P87C52X2BBD features: (1)8kbytes ROM/EPROM; (2)12-clock operation with selectable 6-clock operation (via software or via parallel programmer); (3)Memory addressing capability: Up to 64kbytes ROM and 64kbytes RAM; (4)Power control modes: Clock can be stopped and resumed, Idle mode, Power-down mode; (5)CMOS and TTL compatible; (6)Two speed ranges at VCC = 5 V: 0 to 30 MHz with 6-clock operation, 0 to 33 MHz with 12-clock operation; (7)PLCC, DIP, TSSOP or LQFP packages; (8)Extended temperature ranges; (9)Dual Data Pointers; (10)Security bits: ROM (2 bits), OTP (3 bits); (11)Encryption array - 64 bytes; (12)Four interrupt priority levels; (13)Six interrupt sources; (14)Four 8-bit I/O ports; (15)Full-duplex enhanced UART; (16)Three 16-bit timers/counters T0, T1 (standard 80C51) and additional T2 (capture and compare); (17)Programmable clock-out pin; (18)Asynchronous port reset; (19)Low EMI (inhibit ALE, slew rate controlled outputs, and 6-clock; (20)mode); (21)Wake-up from Power Down by an external interrupt.
Diagrams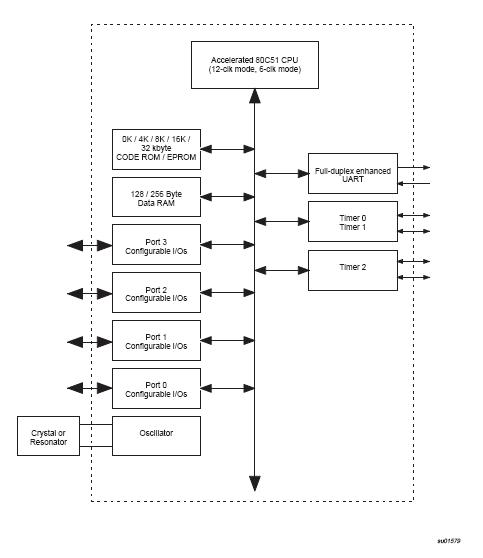 Image
Part No
Mfg
Description
Pricing
(USD)
Quantity

P87C52X2BBD,157

NXP Semiconductors

8-bit Microcontrollers (MCU) 80C51 8K/256 OTP

Data Sheet



| | |
| --- | --- |
| 0-1: | $1.09 |
| 1-25: | $0.96 |
| 25-100: | $0.88 |
| 100-250: | $0.85 |

Image
Part No
Mfg
Description
Pricing
(USD)
Quantity

P87C251SA16



IC MCU 8-BIT 8K 16MHZ OTP 40-DIP

Data Sheet

Negotiable

P87C251SB16



IC MCU 8-BIT 16K 16MHZ OTP 40DIP

Data Sheet

Negotiable

P87C251SP16



IC MCU 8-BIT 8K 16MHZ OTP 40-DIP

Data Sheet

Negotiable

P87C251SQ16



IC MCU 8-BIT 16K 16MHZ OTP 40DIP

Data Sheet

Negotiable

P87C42



IC MCU UNIV PERIF INTERFAC 40DIP

Data Sheet

Negotiable

P87C453EBAA

Other



Data Sheet

Negotiable