Product Summary
The TPS5430DDAG4 is a 5.5V step-down swift converter. The TPS5430DDAG4 device is available in a thermally enhanced, easy to use 8-pin SOIC PowerPAD. package. TI of the TPS5430DDAG4 provides evaluation modules and the SWIFT. Designer software tool to aid in quickly achieving high-performance power supply designs to meet aggressive equipment development cycles.
Parametrics
TPS5430DDAG4 absolute maximum ratings: (1)IO Source current PH: Internally Limited; (2)IO Leakage current PH: 10 mA; (3)TJ Operating virtual junction temperature range: –40 to 125 ℃; (4)TSTG Storage temperature: –65 to 150 ℃; (5)Lead temperature 1,6 mm (1/16-inch) from case for 10 seconds: 300 ℃.
Features
TPS5430DDAG4 features: (1)Internal Compensation Minimizes External Parts Count; (2)Fixed 500 kHz Switching Frequency for Small Filter Size; (3)Improved Line Regulation and Transient Response by Input Voltage Feed Forward; (4)System Protected by Over Current Limiting and Thermal Shutdown.
Diagrams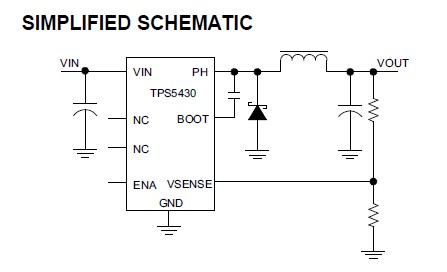 Image
Part No
Mfg
Description
Pricing
(USD)
Quantity

TPS5430DDAG4

Texas Instruments

DC/DC Switching Regulators 5.5 to 36V Input 3A Step Dwn Converter

Data Sheet



| | |
| --- | --- |
| 0-1: | $3.28 |
| 1-25: | $3.00 |
| 25-100: | $2.43 |
| 100-250: | $2.11 |

Image
Part No
Mfg
Description
Pricing
(USD)
Quantity

TPS5100

Other



Data Sheet

Negotiable

TPS5100IPW

Texas Instruments

DC/DC Switching Controllers Lo Inpt Vltg Triple Ch Cntrllr

Data Sheet



| | |
| --- | --- |
| 0-1: | $2.33 |
| 1-25: | $1.91 |
| 25-100: | $1.67 |
| 100-250: | $1.45 |


TPS5100IPWR

Texas Instruments

DC/DC Switching Controllers Lo Input Vltg Triple Ch Cntrlr

Data Sheet



| | |
| --- | --- |
| 0-1490: | $1.05 |
| 1490-2000: | $1.01 |
| 2000-5000: | $0.97 |


TPS5100IPWRG4

Texas Instruments

DC/DC Switching Controllers Lo Input Vltg Triple Ch Cntrlr

Data Sheet



| | |
| --- | --- |
| 0-1490: | $1.05 |
| 1490-2000: | $1.01 |
| 2000-5000: | $0.97 |


TPS5102

Other



Data Sheet

Negotiable

TPS51020

Other



Data Sheet

Negotiable