Product Summary
The C8051F320-GQR is a 16k ISP FLASH MCU. With on-chip Power-On Reset, VDD monitor, Voltage Regulator, Watchdog Timer, and clock oscillator, the device is a truly stand-alone System-on-a-Chip solution. The FLASH memory can be reprogrammed in-circuit, providing non-volatile data storage, and also allowing field upgrades of the 8051 firmware. The C8051F320-GQR is specified for 2.7 V- to-3.6 V operation over the industrial temperature range (-40℃ to +85℃). The Port I/O and /RST pins are tolerant of input signals up to 5 V. The C8051F320-GQR is available in a 32-pin LQFP or a 28-pin MLP package.
Parametrics
C8051F320-GQR absolute maximum ratings: (1)Ambient temperature under bias: -55 to 125 ℃; (2)Storage Temperature: -65 to 150 ℃; (3)Voltage on any Port I/O Pin or /RST with respect to GND: -0.3 to 5.8 V; (4)Voltage on VDD with respect to GND: -0.3 to 4.2 V; (5)Maximum Total current through VDD and GND: 500 mA; (6)Maximum output current sunk by /RST or any Port pin: 100 mA.
Features
C8051F320-GQR features: (1)High-speed pipelined 8051-compatible microcontroller core (up to 25 MIPS); (2)In-system, full-speed, non-intrusive debug interface (on-chip); (3)Universal Serial Bus (USB) Function Controller with eight flexible endpoint pipes, integrated transceiver, and 1k FIFO RAM; (4)Supply Voltage Regulator (5V-to-3V); (5)True 10-bit 200 ksps 17-channel single-ended/differential ADC with analog multiplexer; (6)On-chip Voltage Reference and Temperature Sensor; (7)On-chip Voltage Comparators; (8)Precision programmable 12 MHz internal oscillator and 4x clock multiplier; (9)16k bytes of on-chip FLASH memory.
Diagrams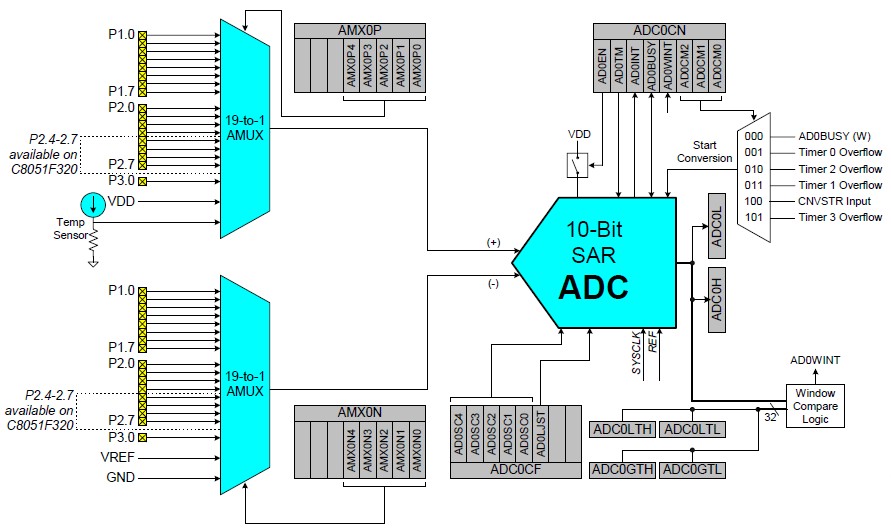 Image
Part No
Mfg
Description
Pricing
(USD)
Quantity

C8051F320-GQR

Silicon Labs

8-bit Microcontrollers (MCU) 16KB 10ADC USB 32Pin Tape and Reel

Data Sheet



| | |
| --- | --- |
| 0-500: | $2.83 |
| 500-1000: | $2.74 |

Image
Part No
Mfg
Description
Pricing
(USD)
Quantity

C805

Chemtronics

Chemicals HAND GUARD LOTION SF 8 FL OZ LIQUID

Data Sheet



C8051F000

Silicon Labs

8-bit Microcontrollers (MCU) 32KB 12ADC

Data Sheet

Negotiable

C8051F000-GQ

Silicon Labs

8-bit Microcontrollers (MCU) 32KB 12ADC

Data Sheet



| | |
| --- | --- |
| 0-1: | $6.11 |
| 1-25: | $5.89 |
| 25-100: | $5.66 |
| 100-1000: | $5.27 |


C8051F000-GQR

Silicon Labs

8-bit Microcontrollers (MCU) 32KB 12ADC 64Pin MCU Tape and Reel

Data Sheet



| | |
| --- | --- |
| 0-500: | $5.93 |
| 500-1000: | $5.75 |


C8051F000R

Silicon Labs

8-bit Microcontrollers (MCU) C 12Bit 64Pin

Data Sheet

Negotiable

C8051F000TB

Silicon Labs

Development Boards & Kits - 8051 USE 634-C8051F005TB

Data Sheet

Negotiable