Product Summary
The P87C51FB-4A is a Single-Chip 8-Bit Microcontroller. It provides architectural enhancements that make them applicable in a variety of applications for general control systems.
Parametrics
P87C51FB-4A absolute maximum ratings: (1)Operating temperature under bias: 0℃ to +70℃ or -40℃ to +85℃; (2)Storage temperature range: –65℃ to +150℃; (3)Voltage on EA/VPP pin to VSS: 0 to +13.0 V; (4)Voltage on any other pin to VSS:–0.5 to +6.5 V; (5)Maximum IOL per I/O pin: 15mA; (6)Power dissipation (based on package heat transfer limitations, not device power consumption): 1.5W.
Features
P87C51FB-4A features: (1)80C51 Central Processing Unit; (2)Speed up to 33MHz; (3)Full static operation; (4)Operating voltage range: 2.7V to 5.5V @ 16MHz; (5)Security bits: ROM-2 bits, OTP-EPROM-3 bits; (6)Encryption array ?64 bytes; (7)RAM expandable to 64K bytes; (8)4 level priority interrupt; (9)6 or7 interrupt sources, depending on device; (10)Four 8-bit I/O ports; (11)Full-duplex enhanced UART: Framing error detection, Automatic address recognition; (12)Power control modes; (13)Clock can be stopped and resumed: Idle mode, Power down mode, ; (14)Programmable clock out; (15)Second DPTR register; (16)Asynchronous port reset; (17)Low EMI (inhibit ALE).
Diagrams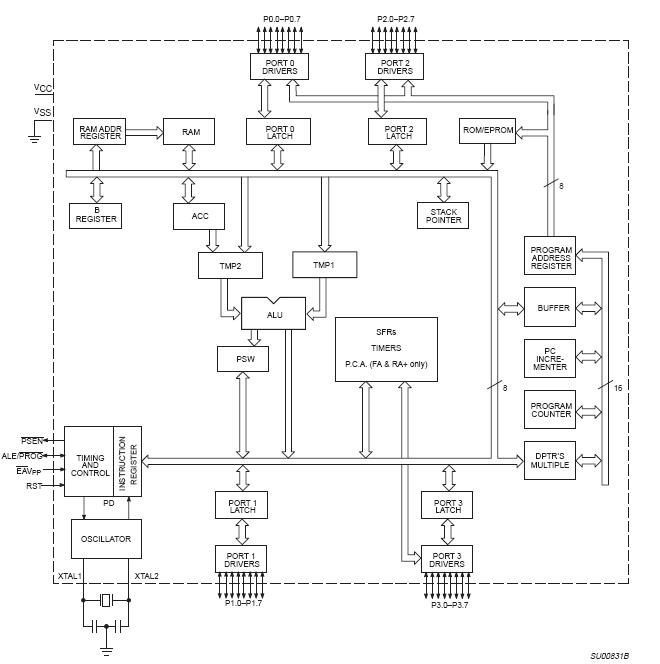 Image
Part No
Mfg
Description
Pricing
(USD)
Quantity

P87C51FB-4A

NXP Semiconductors

8-bit Microcontrollers (MCU) 80C51 16K/256 OTP

Data Sheet

Negotiable

P87C51FB-4A,512

NXP Semiconductors

8-bit Microcontrollers (MCU) 80C51 16K/256 OTP

Data Sheet



| | |
| --- | --- |
| 0-839: | $4.19 |
| 839-1000: | $3.64 |
| 1000-2000: | $3.51 |