Product Summary
The S87C751-2A28 is an 8-bit microcontroller. It is fabricated with Philips high-density CMOS technology. Philips epitaxial substrate minimizes CMOS latch-up sensitivity. The S87C751-2A28 contains a 2k × 8 ROM (83C751) EPROM (87C751), a 64 × 8 RAM, 19 I/O lines, a 16-bit auto-reload counter/timer, a five-source, fixed-priority level interrupt structure, a bidirectional inter-integrated circuit (I2C) serial bus interface, and an on-chip oscillator.
Parametrics
S87C751-2A28 absolute maximum ratings: (1)Storage temperature range: –65 to +150 ℃; (2)Voltage from VCC to VSS: –0.5 to +6.5 V; (3) Voltage from any pin to VSS (except VPP): –0.5 to VCC + 0.5 V; (4)Power dissipation: 1.0 W; (5)Voltage on VPP pin to VSS: 0 to +13.0 V; (6)Maximum IOL per I/O pin: 10mA.
Features
S87C751-2A28 features: (1)80C51 based architecture; (2)Inter-Integrated Circuit (I2C) serial bus interface; (3)87C751 available in one-time programmable plastic packages; (4)Wide oscillator frequency range; (5)16-bit auto reloadable counter/timer; (6)Fixed-rate timer; (7)Boolean processor; (8)CMOS and TTL compatible; (9)Well suited for logic replacement, consumer and industrial applications; (10)LED drive outputs.
Diagrams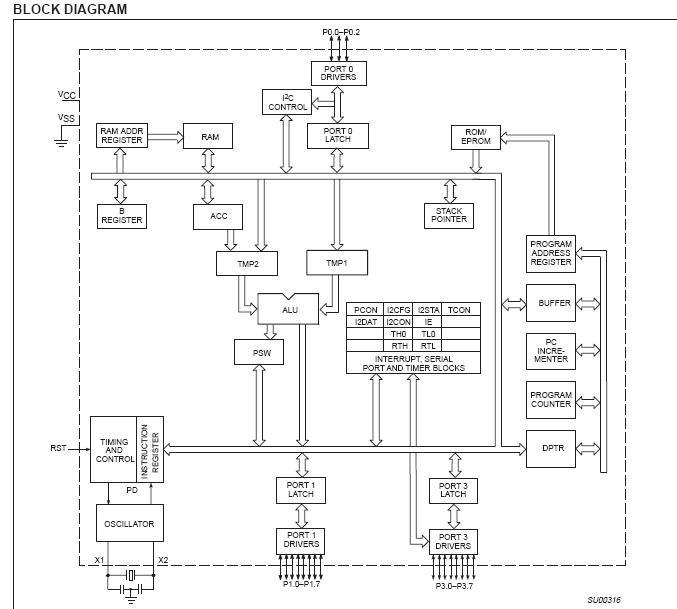 Image
Part No
Mfg
Description
Pricing
(USD)
Quantity

S87C751-2A28

Other



Data Sheet

Negotiable
Image
Part No
Mfg
Description
Pricing
(USD)
Quantity

S87C196KB16



IC MCU 16-BIT 5V 8K OTP 80-QFP

Data Sheet

Negotiable

S87C196KC20



IC MCU 16-BIT 5V 16K OTP 80-MQFP

Data Sheet



| | |
| --- | --- |
| 0-1: | $10.93 |
| 1-10: | $10.11 |
| 10-100: | $8.60 |
| 100-250: | $7.92 |
| 250-500: | $7.82 |


S87C196KD



IC MCU 16-BIT 5V 32K OTP 80-MQFP

Data Sheet

Negotiable

S87C196KD20



IC MCU 16-BIT 5V 32K OTP 80-MQFP

Data Sheet



| | |
| --- | --- |
| 0-1: | $11.92 |
| 1-10: | $11.02 |
| 10-100: | $9.38 |
| 100-250: | $8.64 |
| 250-500: | $8.53 |


S87C196MC



IC MCU 16-BIT 5V 16K OTP 80-MQFP

Data Sheet

Negotiable

S87C196MCSF81



IC MCU 16-BIT 5V 16K OTP 80-MQFP

Data Sheet

Negotiable